In the tiresome tradition of photographs of my holidays, we present...
THE 2000th COMPOSITE GROUP (H)
ROCK REPORT
(A.K.A. "YOU KNOW WHAT I DID LAST SUMMER?" )
| | |
| --- | --- |
| FROM: | PAUL F. WHITMAN |
| TO: | ALL TROOPS |
| RE: | CORREGIDOR VISIT JAN 2000 BY DANNY HOWELL, BOB McGETCHIN, AL McGREW, ART NAPOLITANO, PAUL WHITMAN & HUGH ZILLMAN |
Danny Howell

Unlike prior visits, this year I came via Danny Howell's banca from Cabcaben. Indeed, I hadn't even expected to be coming to Corregidor quite this early, as I had hoped to see the tunnels down at Marivales that Danny had located. But that was not to be, for on the first night I met him in Olongapo, he'd told me that he'd arranged to go over to Corregidor the next morning whether or not, but I could come along if I wanted. It caught me unawares, and meant that I would be on the island at least four or five days before the remainder of the group arrived.
The next morning, we set out from Olongapo across the Bataan Peninsula and then down the road down it's eastern coast. Though close to the coast, we could hardly ever see the sea, except as we approached the tip of the peninsula, where there are now a series of Oil terminals and refineries built in the government's "Refineries to pollute the air program"
We went shopping at Cabcaben and because we were had been keeping refined times (and had not been up at sparrowfart to get an early departure) we got the last pick of the fish at its fishmarket. I bought the fish even though I never intended eating any of it, as I have never been a fish eater. besides, the sight of thefish that the locals hadn't bought was most uninspiring. I bought some eggs and several soups, and resolved that I could live off these.
Bob Mcgetchin &
Danny Howell, Btty. Geary
Danny had been having trouble with the starter motor of his Corregidor truck, and had brought with is the repaired unit. It was painted in international orange, because 'nobody else on the island uses that colour'. As usual for the Philippines, the complication was more human than mechanical - the mechanic had gone somewhere and had locked up most of the tools. So I helped in the scrounging, and after a little mechanical work, the truck was going again. We loaded up the provisions, such as we had, and drove up to the FIL-AM Compound.
Danny's house is a small affair, roughly similar in size to the unmarried teacher's quarters which is adjacent to the schoolhouse. In PI, it is not wise to have too different a house to one's neighbors. Danny has added a screened covered sleep out at the rear. The house backs on to an overgrown path which runs between the FIL-AM Compound and the FIL-AM Friendship memorial. Danny has had a sight line of undergrowth cleared behind his house, which gives him a clear view of the ocean and the western half of Ft. Hughes. There's also a small bunker, of indeterminate storage purpose, in this 'front yard' of his
Danny explained at length the vicissitudes and subtleties of living as the token American on Corregidor. This took some considerable time - the subtleties were vicious, he explained. After hearing the complexities of life as a token American, I don't envy him that distinction. Sometimes he felt that everything he'd worked for on the island could be snatched away from him in a heartbeat. And after his quadruple bypass, heartbeats were constantly upon his mind.
During the first day or so with Danny, he took me around to some of the less obvious sights with which I was unfamiliar - mainly the tunnel openings at Engineers tunnel, Navy Intercept Tunnel, and the Hospital-North Shore Road tunnel exit. For his help I am very grateful, as it gave me a store of knowledge from which I was able to arrange later excursions for our little group.
Dusk at Btty. Grubbs can
be savagely beautiful

He showed me where he had been working on the western end of one of the Navy Tunnel exits. He's had a driver of the bulldozer involved in a minor landslide, and the top of the tunnel archway could barely be seen above the landslip. There was no evidence of rebar in the archway. There was still a considerable amount of unstable hillside above the tunnel, which looked very precarious. So much so that I felt a decent sneeze might have started a minor avalanche. Certainly a bulldozer was not the right tool for the job, and a backhoe would have been the tool of choice.
Danny pointed out that the Belotes' had gotten it wrong in naming the four 'Navy' tunnels along the western side. The correct names were Queen, Roger, Sugar & Tare. I noticed that they were sequenced QRS&T, and wondered whether this meant there had been a system of names involved. Danny often liked to point out where the Belotes had gotten it wrong. He later showed me what was one of the most dog-eared books I have ever seen, virtually worn out by being marked, referenced, corrected, critiqued and footnoted almost to destruction.
During this time, we also had a look at one of the 360° Panama mount at Btty. Levagood (still in good condition) and I managed to locate Btty. Maxwell Keyes (after Danny had inadvertently sent us off along a more indirect track.) The undergrowth around Btty. Maxwell Keyes manages to hide it effectively from all sight beyond about 5m away. Its entrance is, unlike others, still woven with barbed wire. No doubt there will be some mean barbed wire collector who will now attempt to corner the market in genuine Corregidor wire. Inside the bunker, the scrappers have, with their usual mind-numbing patience, done whatever they could to strip the rebar from the ceiling and walls.
There is now a large sign at the footpath which has a few steps down to the road from the west entrance of the Naval Intercept Tunnel. Danny had commented that there were some who felt that the path was actually a drain, but I agreed with him that it was the first drain I had seen with a flat profile and steps. I felt that the Naval Intercept Tunnel was a spooky place, absolutely unlike the other tunnels which I had seen. The rear entrance really looks like a place where the sun has never shined its grace. We also endeavored to determine whether the track of the road had changed any since the war, and felt that it hadn't (or if so, not by much at all) - because the sidewalk which had passed the tunnel's west-most entrance (presumably) would have gone down to the old road level.


North exit from the Hospital Lateral
Perhaps we could call it
"The Keyhole"
(Photo Art Napolitano)

After Danny pointed it out, I climbed the 20 or more metres up to the exit of the Hospital-North Shore Road tunnel.
The tunnel, we would find out later, can be easily entered from the shaft which joins the several hospital laterals, one simply has to get on one's back and slide under the concrete 'plug' which has been built at the end of the shaft. It was not a full-sized shaft, but allowed one to walk hunched over.
Adjacent to the exit itself, a step had been dug along the shaft of the tunnel, suitable for sitting on.
There were several broken sake bottles in the immediate area, marked with the name of DAI-NIPPON BREWERY CO LTD., indicating that the site had been well used in the past. Danny told me that not many folk knew about the exit, and that I shouldn't make a big deal about it, though when one of the CFI folk asked me very directly later about whether I knew of it, it was obvious that it was well known to them.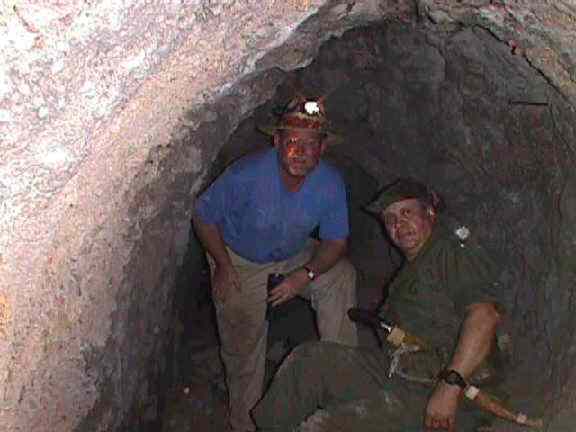 It was not a full
sized tunnel but
allowed one to walk
hunched over.
(Photo Hugh Zillman)

I felt that whatever Danny was doing on the island, the guys at the CFI office knew about it. It's hard to keep secrets in a small company town, which is what Corregidor is turning out to be, as Colonel Burgos abilities fade and the bureaucrats take over.
I stayed with Danny for a few nights, until Bob McGetchin arrived. By that time, Al McGrew had been in the Corregidor Inn for one night, and it was time that I moved in and shared a room with Al.
Meeting Al really did cause me some concern. Danny had warned me that sharing a room with Al might be difficult. Danny got it wrong. Al was a delight. (I, on the other hand might probably have been difficult for Al, but if I was, he certainly never complained. Hell, I think Al had more cause to complain about my snoring than vice versa, because I was usually able to punch'n Z's within about 3 minutes of my head hitting sack.)
A few words about the special treatment that the Corregidor Inn gives returning veterans.
There isn't any.
When we checked in, they hit us with a room rate well into the high 3000's per night, which, even with a 10% discount, still remained at the 3000+ level. Ouch! Fortunately, Art Napolitano, who was next to arrive (from Boston), had used the booking services of the EDSA Shangri-La, and Corporate muscle, and had been quoted a room rate of 1300 per room. After a few harsh words, our rate was adjusted accordingly.
The morning Art arrived, we went up to see Danny. He and Mario, and Bob were at a 'dig' site in soft midden-like ground near the hospital. They'd found a number of small glass jars, probably of medical origin, a bomb fuse, and some miscellaneous items, including a broken 59th badge .
I didn't see Danny again after we returned to the hotel that afternoon. We were simply too many, too loud and too impolite for his pursuit of gracious and quiet relaxation and quiet archaeology. I heard later that he'd gone back to Olongapo.
Hugh Zillman (also from Brisbane) arrived the day after Art, and our 2000th Group was in business! I won't go into detail because I didn't keep a diary (I wanted to lose all track of time and become unfamiliar with the need for writing implements), just a few comments.


Btty. Wheeler
(Photo Art Napolitano)

Both Btty Cheney and Btty Wheeler had been cleared of most grass & overgrowth, and could easily have been made suitable for tourists, though the dirt tracks down to them were quite rough. Grubbs was in good condition, as was the road towards it. The CFI might consider taking tourists there, and extending the tour day by 40 minutes, as Grubbs affords a fine view towards Subic Bay and the North channel.
One thing which made Art very popular with Al was Al's camera. Art works for Polaroid, and borrowed the office camera, a Sony Mavica. (Polaroid's office camera is a Sony??!!) Nowdays most everyone is pretty familiar with digital cameras, but the particularly nice thing about the Mavica (which the other cameras don't have) is that it writes directly to a standard floppy disk. You just slip the floppy inside the camera in the same way as you slip a floppy into a disk drive. Thus, when traveling overseas, you don't need to bring your computer with you, only a box of floppies. Each floppy would hold around two dozen photos in low resolution mode, and it was handy just to be able to pop the disk into the Corregidor Inn's computer just to see the enlargements. Al continually followed Art, constantly encouraging him to take dangerous and death defying risks, in the hope that he could rescue the digital camera just prior to Art's premature demise. "I'll hold the camera while you kick that shell…" was Al's constant patter. We couldn't help but laugh every time.
The Artful Scrounger
liberates a Japanese
rifle barrel from the
Engineer's Tunnel

The Engineer's tunnel is open, but you have to get down on your back to lever yourself inside. Getting out is a similar claustrophobic experience. It's very Spartan inside, but quite large enough to park a truck inside. Thoroughly picked over, though Art, an expert scrounger, found a Japanese rifle barrel. He cleaned it up and it began to look half respectable as a souvenir. "It will go on my office desk," was Art's comment.
The CFI have used their bulldozer to open up the South Road around Malinta Hill. There road is still a little precarious and rough, and certainly not an easy drive – but can be walked fairly easily. The views are spectacular. The road crosses over the east entrance of Malinta tunnel, and comes out near RJ43.
The south shore road trail beyond Btty. Hanna is, as George Munson says, impassable without a flame thrower. The way that the lantana bush is growing throughout the island, many more trails will succumb to this fate. Al commented that the island was as overgrown as he'd ever recalled seeing it.
Lantana is as noxious a weed as it's possible to have, and it took us some time to bolo through it so as to get to Searchlight #8 from the top of Malinta Hill. Incidentally, we recovered some searchlight glass and portions of mirror and carbon rod from the searchlight enclosure. We rested there for some time, watched over by the ghosts of Lt. Friedline and the four men of Btty "M" 60th CA who died of burns that afternoon of 30 April 1942 when a 40 mm shell came down the ventilation shaft and exploded the gas tank of the 25 KV generator and the fire swept all through the tunnel.
That there is not even a small historical marker there today tends to suggest to me that the CFI, looking after the physical heritage of the land, are neglecting the history of the very individials whose sacrifice made it notable.

Zillman, McGrew, Napolitano.


One of the sad things about Corregidor, is the resort which has been built in the 92nd Garage area. There's a modern looking 'convention centre' built overlooking the rock and pebble beach, and numerous small huts, but it's not at all sympathetic with its surroundings, and spoils the landscape. It's only used for occasional conventions, and for much of the year it sits there looking deserted,neglected and entirely out of place. The sadness is that its construction eliminated all traces of the 92nd Garage area, the historic place where all of the allied prisoners were gathered after the surrender. Al recalled, "There were 11,000 of us here, and the Japs didn't even give us water. The only water we had came from a single pipe and there was a line of men with tin cans there 24 hours a day. The bastards! " We knew that when Al used those tones, he wasn't referring to the line of thirsty prisoners.
"The bastards!" was something that Al used to say a lot on Corregidor.
Another regrettable thing about Corregidor is the number of cats there. Yes, I know they are well loved pets. But people don't seem to understand the dangers of feral cats to wildlife. The keeping of Dogs is supposed to be banned on Corregidor, and goats too (though several goats were plainly tethered around Middleside). Cats, unfortunately, haven't been banned. Now if there ever was an effective machine for the playful killing of small wildlife, the cat is it. For as long as cats remain free on that island, the bird life and will never re-generate. No cat without a bell on a collar should be allowed to live on Corregidor.


Entry to Btt.Monja
(Photo Hugh Zillman)

One of the highlights of the trip was the quest for Battery Monja. Don't get the idea it was lost. Simply put, we hadn't ever found it, and we knew it was a notoriously difficult place to get to. Battery Monja had been armed with two 155 mm GPF artillery pieces, capable of firing 17,000 yards. One gun had been sited on a Panama Mount inside the cut where the South Shore Road cut through Wheeler Point, and the other gun was also mounted on a Panama Mount and installed within a casemate. As such, it had been the only battery which had protection from aerial bombardment, and it's position was in a natural defilade. Don Abbott had written about the difficulties (and fatalities) of getting there in 1945, and there were more recent stories about it, generally involving attempts to reach it along the South Shore Road all failing for the poor condtion of the road, and the dense vegetation preventing all passage.
Thus the only practical way to approach Monja was to bring a banca into the beach between Wheeler Point and No Name Point, and to climb up the cliff via a gully close to Wheeler Point. That's what we did, and I'd like to tell you that we climbed up that incline like mountain goats. I'd like to tell you that we did, because we didn't. Being in one's mid-40's, and in a sedentary occupation, the climb to Btt. Monja simply showed me how much I was out of condition. No way was I ever going to give up. If Abbott, McGrew et al had done it, I would too, so I took over the bolo and pushed on.
Hugh Zillman outside of the Tunnel in
James Ravine, generally known
as
"The 1000 Man Tunnel" .
(Photo Art Napolitano)

I was the first of our group to see the casemate, and resting where I fell to the floor inside of it, realised that I looked as if I had just taken a shower in my clothes.
There are scheduled to be approx 11,000 visitors (for a Couples For Christ Rally) on or about 14 Feb. I saw over 100 ceramic toilet seats delivered to North Beach, in all pastel colors. They all looked quite ridiculous, and I wondered how they expected to connect them up. What with that number of folk there, I'm very glad I didn't try to be present for 16th Feb 2000.


Dinosaur Eggs
(Hearnasaurus Smitheii & its smaller cousin, the Morrisonasaurus Ramsayius)
(Photo Art Napolitano)

Whilst digging to prepare a concrete base for showers / latrines up on a terrace at the west end of South Beach, the CFI uncovered five large artillery shells (10 & 12 inch). Art and I went down to see them, and recalling his years of Ordnance experience, he treated them very respectfully. They were base detonating shells which, he pronounced, could explode if subjected to a heavy shock, and there was no evidence to tell if they were live or otherwise. In the absence of such knowledge, Art safely took the photo from behind a ten foot thick wall of sandbags.
The CFI men later gingerly loaded them on to a vehicle which carried them up to "Suicide" cliff and rolled them over. One day, the disposal of these dinosaur eggs will result in an explosion, with predictable consequences.
One of the highlights was going with Al McGrew back to his old squad room at Middleside. Here's a photo of Al with Art. Al told us of the day he was cleaning his .45 and the spring and end plate flew out the window, on to the parade ground below. Al said there was a skirmish line formed to locate the missing pieces, which were never recovered. Al wanted us to search again, so he could apply to the Army for a refund of the money he had to pay them for the missing parts.

The Artful Scrounger failed to find
Al McGrew's missing .45 cal return spring,
but they are still on speaking terms here.

The Middleside barracks have deteriorated badly over time, helped by the inevitable scrappers. Most unusual are a series of shallow tunnels which have been dug in the floors of the barracks, some up to 20 metres long under the cement. In my opinion the number of these "treasure" tunnels appears to have increased lately, the 'droppings' still being relatively recent. Each tunnel is started by a clean, straight cut through the cement floor – as if a power saw was being used. Apparently, someone believes pretty strongly there is treasure hidden beneath the floor at Middleside, but doesn't know which particular barracks it was. I hope they wasted a lot of time and money, and went home broke and dispirited. The world needs less treasure hunters. "The bastards!" as Al would say.


Teamster Al with his Big Truck

Having Al with us, we did a lot of joking about the Big Truck Tunnel, not letting him live down some of his comments about "no trucks" on Corregidor. Whilst we didn't find the Big Truck Tunnel, we did find a big truck.
Well, it might have been a big truck way back when, hadn't it been blown to smithereens, and rusted to virtual non-existence. It's a right hand drive, indicating Japanese origin and this candidate for restoration can be found in the YMCA building.
When we re-form next January as the 2001st Composite Group, one of our projects will be to take a banca around to where the South Shore road runs along the base of Crockett Ravine and go ashore to look for the remainder of Verne White's cave. Of course, just because it was there in February '45 doesn't mean there's any certainty it can be found today. But the joy will be in the looking, and the long odds that even if demolished by the 503rd, some of it might have been uncovered by erosion.
Q: How do you find the Japanese Peace Park?
A: Turn right at the two Nambu machine guns,
past the 37mm anti-tank gun...
Found near Btty. Grubbs
(Photo Art Napolitano)

I don't want to pretend I like the Japanese Peace Park.
Like the Resort, and the Philippine memorial, it sits there discordantly upon the landscape, doing whatever it can to not blend in. During my travels in Japan, I saw many beautiful Japanese gardens, both small and large, and part of their beauty was their ability to borrow from the background scenery and thereby blend together with the landscape. The Peace Garden sits on the landscape almost like a cow pat on the crest of a hill.
Don't get me wrong. I like the display of the artillery pieces, and I'm interested in the Japanese views of what it was they were supposed to be accomplishing in their South East Asia Co-Prosperity Sphere. But to wrap these in a Peace Garden package is a bit of an insult to my sensibilities. And I'm sure I wasn't alone.
As a Peace Park, it's a warlike disgrace. If they want to call it a Peace Park, then they should remove the Ordnance, and the propaganda photos at the canteen. If they want to display the Ordnance, then they shouldn't call it a Peace Garden.

As I was passing by the stair,
I met a gun that wasn't there.

Fortunately, not all of the Japanese guns have been filched from their original emplacements, as likely as that seems. On the western headland of Engineer's Ravine, there is one which fortunately didn't make it to the Peace Park.
Another great experience was the tunnel complex below Command Station #10, which is roughly where Grubbs Trail meets the South Shore Road. The shaft down to the tunnel has been thoroughly shored in, and a very sturdy ladder constructed out of wood. (One wonders how it will survive the termites there).
Regards
Paul Whitman