JAMES F.
'SPEED' REED
_________________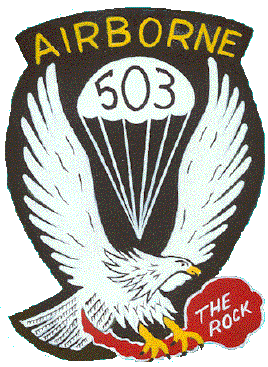 James F.'Speed' REED
S/SGT "G" Company, 503d PRCT
K.I.A., Landing Zone "B", Corregidor
16 February 1945
Lt. Hewitt, Garrett, "Speed" Reed
on Mindoro, Feb 14, 1945.
I learned after the Jump that 'Speed' Reed had landed in the Jap CP and was killed in his harness. I always gave him the credit for exchanging his life for that of Capt. Itagaki, the Japanese Commander on Corregidor. He was the perfect example of a guy who could match the adage "Walk quietly and carry a big stick."
Chet Nycum
"G" Co.