THEODORE C. YOKUM
_________________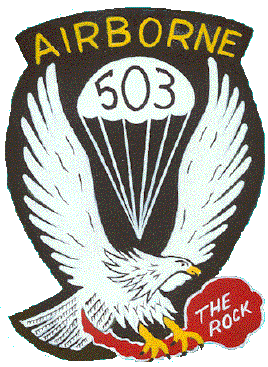 Theodore C.YOKUM
Pvt. "F" Co, 503d PRCT
K.I.A., Grubbs Ravine, Corregidor
22 February 1945
Where were our mortars? Looking back I saw them coming down the rocky bed. Todd was on the other side of the bed, and we both yelled as loud as we could for them to stop, but they came on. I really did not want to leave my prone position by the side of the building, but I had to get to them and get them firing. I rolled over and looked down again at George Mikel. He had not moved since I'd last seen him. It seemed obvious that he had been shot by Japs in or around the culvert, so I told him, for I thought him barely conscious, that I was going to get his mortars into action, for him not to move, an I'd be back shortly. I told Todd to hold everybody where they were. So I ran up the stream bed and though I figure I must have been the sole moving target of opportunity, I was not scratched. In minutes the two conventional mortars were pouring 60mm rounds on to the South Shore Road area.
I went back again, arriving just after Pfc James Wilson had cleaned out the culvert. Wilson was first scout of the second squad, and being a scout he was carrying a Thompson sub-machine gun. He was on the other side of Maciborski and had crawled forward about twenty feet after hearing Jap voices in the culvert. He reached over the edge of the bank and slung a WP grenade into the culvert. As soon as it popped, he jumped down into the stream bed and opened fire with his weapon. As we moved forward and Yocum was crossing the road, suddenly Yocum went down instantly, as if he had been struck with a heavy blow. His legs were drawn up as he lay in a foetal position on his right side. Then after several quivers his body relaxed. As I saw his death, I thought of his two young sons and the love he had expressed to them and his wife, his plans for his return, all the things I had read in his letters which I had been required to read in the distasteful job of censoring mail.
More sadness!

Bill Calhoun
My Day With The Rattlesnakes:

Pfc. Theodore Yocum was killed as he advanced between Calhoun and Narrow, Although a young soldier, he was the father of two sons, one of whom he had never seen.
Bill Calhoun

(Yokum was one of the men in an "F" Co skirmish line which was ambushed in Grubbs Ravine. He was one of four men killed in that action - the other three were Sgt (Pvt.) George J. Mikel. , Pfc. Paul A. Narrow & 2d Lt. Clifford MacKenzie of 2d Bn Hq & HQ Co.