HERALDRY
462d PFA Bn
_________________
Arlis Kline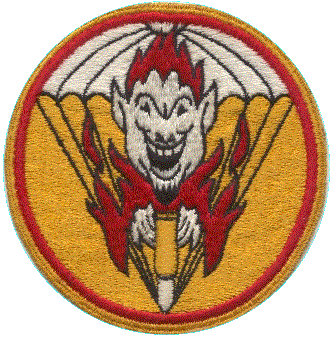 This patch is not reproduced in its original size, to discourage forgery.
It is from the Webmaster's collection, courtesy of Maj. Arlis Kline.
The Devil Patch is the insignia of the 462d Parachute Field Artillery Battalion which served in the Pacific Theater of operations during World War II and became attached as part of the 503rd Parachute Regimental Combat Team for the combat jump upon Corregidor.
This individual patch (above) was worn by Major Arlis Kline on his leather A-2 jacket, it having been issued to him at Camp Mackall, North Carolina. Arlis, then a Major, commanded the 462d on the Corregidor jump. I asked him about it...
" I can't tell you much about the patch. The first time I saw it was around June 1943 at Camp Mackall N.C. This was right next to Fort Bragg. Madigan, who was the Battalion Commanding Officer at that point, called me into his office and asked me 'What do you think of this Patch?' You don't disagree with the Old Man, though it is possible to have him shot, which we arranged later, but that is another story. I don't know where it came from or who designed it. Anyway, I guess we bought them at the PX. They were never widely worn. The leather jackets are another thing I not sure about. They were not an item of general issue. Not every Officer had one, but most did. I think they were actually an Air Corps item and our supply officer managed to get them. Don't ask me how! I don't have any history of the 462d. We were formed at Camp McCall in about June or July 1943. We trained at McCall until about February 1944, and after passing our Battalion tests we were sent to Camp Stoneman California. Up until we were sent to California, we fully expected to be sent to Europe. We embarked on the Liberty Ship "Sea Cat" and arrived in Brisbane, Australia about 31 days later. When we arrived in Brisbane we were joined with the 503d P.I.R. We were only there a week or so when the 503d was sent to New Guinea. We remained. This was a matter of logistics ( there was not enough ship room for us.) So we had to wait until about September 1944 when we went by Dutch ship to join the 503d on Noemfoor. I personally was not on this trip as I had flown ahead and joined the 503d on Aug 14, 1943. After the 462d arrived we settled in and did training again. Always training in the Army. It was during this time that we managed to wound Madigan with a training accident and I assumed command. On October 20th or 21st, Colonel Jones and I flew to Hollandia and then on to Angar, which was part of the Palau Group. We over-nighted there and the next morning flew on to Leyte to report to Krueger's 6th Army and start preparations and planning for a drop on Mindoro. The R.C.T. arrived and we bivouacked. in some coconut groves about 3-4 miles south of Tacloban. On about December 12 we embarked on LCI's and sailed to Mindoro where we made a seaborne landing on December 15. It was from Mindoro that we left to drop in on Corregidor on 16 February, 1945. My accommodation was not terribly good on Corregidor, because I had dropped in without a reservation. Major Melvin Knudsen took over from me after I was evacuated from Corregidor, and he then took the unit back to Mindoro and then on to Negros, which was its last engagement. The 462d was decommissioned about August or September 45. Poof, just like that there was no more 462d! Men with enough points were sent home and those who didn't have enough were assigned to 11th Airborne, which didn't always please them too much, because we always looked down on them as a 'junior' outfit. Of course, being badly wounded, I was sent back to the hospital in Hollandia. A Medical board decided to send me back Stateside for surgery on my knee. Which they did! You can't argue with a medical board!"
The devil in this artwork, tracing back to January 1944 (above), seems to be holding an aerial bomb rather than an artillery shell.
Recent reproduction patch (below) suffers from not being fully embroidered, and fails to reproduce the correct hue of the original.
.

Original Devil Patches are rare and good examples have changed hands in excess of US$1000 each.